Let's Live Lent 2021
In this section you can find a series of resources to celebrate and Live Lent 2021. Below you can find some resources for use individually, in 'online' groups and in your local 'online' parish. Use the links to take part in some of our online prayer moments, podcasts and online conversation.
Prayer Moments
————————————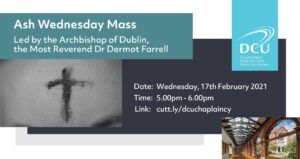 Pastoral Conversations
LET'S LIVE LENT: BRINGING THE GOSPEL TO LIFE
Pastoral Conversations Lets Live Lent
Five Pastoral Conversations on Zoom. Presented by a team from the Office for Evangelisation and the Diocesan Liturgical Resource Centre. Tuesdays 16 Feb, 23 Feb, 2 Mar, 9 Mar and 16 Mar 2021 at 8.00 p.m. Full details including booking information shortly.
Week 2 – Transfiguration
——————————————————————
Diocesan Liturgical Center Resources
View our diocesan liturgical resource site – here – http://litmus.dublindiocese.ie/
—————————————————————-
Parishes Working Together for Mission – Lenten Resources and Initiatives prepared by Parish Pastoral Workers
We have a great team of lay pastoral workers and faith development workers who have combined their resources to create many new options for celebrating Lent in your parish, your home and just for yourself. Join them online and take part in some really creative and innovative initiatives -Click on the link below.
Parishes Working Together for Mission Lent 2021 Resources to be shared
---
Family Home Church Resources
Children Parish Resources for Lent
The Godly Play The Story in Jobstown parish
—————————
TROCAIRE LENTEN CAMPAIGN 2021
This year Trocaire's Lenten Campaign will focus on exploring the Impact of Conflict on Families in South Sudan. This Lent, we learn more about the suffering of people who have lost their homes and loved ones to war, and how they are rebuilding their lives through love, friendship and solidarity. Parish resources are now available at Trocaire Lenten Campaign
—————————————————————
Books to Read
In Hearers of The Word – Praying and Exploring the Readings for Lent and Holy Week: Year B Kieran J O'Mahony OSA maps the readings of Lent and Holy Week, drawing together the story of Jesus' final days with accompanying commentary, prayer guides and reflections.
By exploring the context and background to all three readings, the author hopes to make the readings available for personal prayer and as a preparation for taking part in the Sunday liturgy. A very useful resource for all who wish to get more out of the season's readings. Fr Kieran is very well-known for his hugely popular 'Weekly Notes' – an email resource for each week's readings throughout the year. To purchase – Click Here
Return to Me with All your Heart is a thought-provoking selection of scripture readings and reflections designed to accompany the reader through the season of Lent. This accessible and practical guide, which also includes inspirational quotations and questions to prompt the reader to effect change in their day-to-day lives, is the perfect companion for this essential period in the Church calendar. To Purchase – Click Here
Join a Lenten Bookclub – Wednesdays during Lent – Lenten Book Club
————————————————————————
Online Resources
Children Liturgy Parish Resources for Lent
New Resource from Salt and Light Media for Families
"YES, LORD!" A Children's Liturgy of the Word for Lent.
Find out more and watch the first episode at http://www.slmedia.org/yeslord