Come To World Youth Day 2023 – Expressions of Interest now open
Parishes and Individuals are now invited to register their interest in either attending WYD Lisbon or organising a parish group to participate. Over the past year many parishes and people have noted in submissions for the Task Force and also preparatory meetings on Synod the importance of reaching out to younger people.
World Youth Day will take place 1-6 August in Lisbon 2023. Package options and costs are still being determined and the registration system will open in September. At present it is intended to have the option for teenagers aged 16-18 to participate as well as those aged 18-29.
The Archdiocese of Dublin has a great tradition in participation at World Youth Day. This is a great opportunity to reach out to young people and connect them to young people in many parishes that will participate at WYD. A full pastoral programme for all pilgrims will also commence later in the year, with opportunities for leadership roles as well.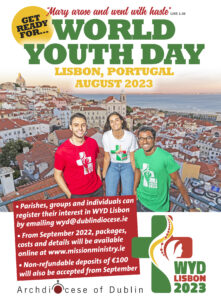 Get In touch and keep in touch
We would like to hear from you between before September so that we can focus and fine tune the various package options that will be proposed.
Parishes are now invited register their interest – providing information if possible on numbers and maybe local leaders also
Individuals can also use this system to register their interest
Groups (Schools, Third Level Chaplaincy, Faith groups) – can also use this system
Expression of Interest for World Youth Day Lisbon 2023
If your parish(es) is thinking about organising a group – you can email wyd@dublindiocese.ie if you have any questions.
Registrations for WYD Lisbon will open in late August 2022.