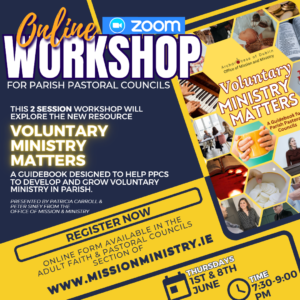 VOLUNTARY MINISTRY MATTERS
This is a 2 session training course to help members of Parish Pastoral Councils explore a new resource called Voluntary Ministry Matters. This resource, which will be introduced at the first training session, has been designed as a guide to develop and grow voluntary ministry in parish.
The course is being offered ONLINE via Zoom and will take place over 2 Thursday evenings, 1st & 8th June from 7.30pm-9.00pm.
To register to receive the Zoom link, please complete the short online form by clicking on the image above or using the link: https://forms.office.com/e/dpL85gD8zR