Pastoral Resources for WYD Lisbon
Over the coming months there will be many pastoral resources for pilgrims. Below you can find out more. There will be a dedicated pastoral programme for pilgrims from Dublin. This will be announced later once registration opens later in the year.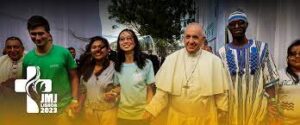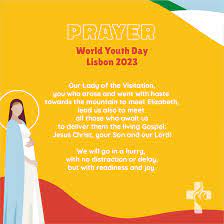 WYD Lisbon Prayer and Pastoral Resources
WYD Theme Mary arose and went with haste
What are the Symbols of World Youth Day
Official theme song
The World Youth Day Lisbon 2023 theme song, entitled "Há Pressa no Ar", was released this Wednesday, 27th January. The song, inspired on the WYD Lisbon 2023 theme [«Mary rose up and went with haste (Lc1,39)»], is about the 'yes' of Mary and about her rush to meet her cousin Elizabeth, just like the Bible verse says.
"Há Pressa no Ar" has lyrics by João Paulo Vaz, a priest, and music by Pedro Ferreira, teacher, and musician, both from the Diocese of Coimbra, in the centre region of Portugal. The arrangements were made by the musician Carlos Garcia.
Rosary
Here you will find a prayer proposal especially dedicated to WYD, with meditations for each day of the week. "